At my dealership, they like to play the customers favorite song over speakers inside the dealership when someone buys a new bike. They get to ring a brass bell and all the employees will come over and thank the new owner, etc… etc… I pretty much know everyone there already and told them I can dispense with the hoopla but asked if they would play my song for all to hear. I was curious if they would do this… apparently they had second thoughts when I told them it was "Fuc|< the Pain Away" by Peaches. I told them it was OK, that I was just more curious if they would actually do it or not than actually hearing the song…. besides it was already on my playlist, I can listen to it any time.
Its not my first time on a >2014 Limited but somehow it does feel different. Because this one is mine. The bike was turned over to me just outside the front door with of the dealership, with 6 miles on the odometer… where I immediately drove it out like 50 yards and started doing tight figure-8's in the parking lot… my salesman was cheering me on.
The hard part was the initial engine break in, I was told to keep it under 3K RPM for the first 50 miles and 3.5K for the next 500 miles. So, I ran up to the Valley of Fire to re-create my profile picture from my Street Glide. Varying engine RPM's through the ride. Once I got to the Valley of Fire the first 50 miles were done so I could now hit 3,500 RPM. I would now be in gradual twists all the way home, so as long I shifted earlier than normal I should be OK. Id did find myself going through the turns at a pretty good clip though.
I have basic familiarity with the stereo already but I forgot to bring a sync cord for my phone… which as it turns out won't fit in the little "phone box" anyways, so I was listening to my playlist via bluetooth. While going through a function tests of the stereo I found that every time that I keyed the CB, my song would get paused. A quick tap on the "press-to-talk" would un-pause it. But as a Road Captain in our HOG Chapter, we use CB's a lot… this will get annoying very quickly if I can't get it to stop.
Got home with 140 miles or so on the odometer, put my highway pegs on, my Hardbagger Top Shelf tray and the Custom Dynamics Dynamic Rings front LED indicators.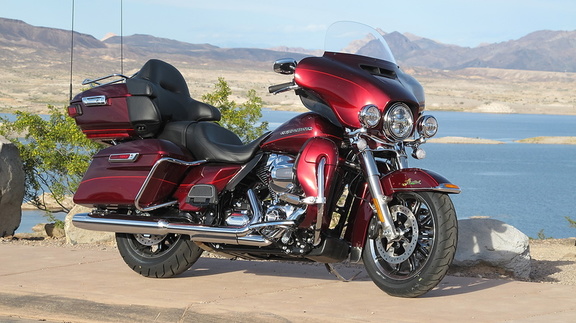 I then decided that I wanted to de-badge the bike, I wanted to do it on my Street Glide but never did it. This time… what the hell.
I took some measurements on the current placement just in case I didn't like it. I used the pin stripe line as a reference.